Medical Device Instrument Tray Rolling Cart with Shelves and Drawers 

2/3 Tiers Layer Lab Cart

This lab cart has 2/3 large and deep baskets and provides enough room for your daily essentials, 4 wheels allow you easy to move anywhere, and 2 lockable wheels provide steadiness, allowing you to place the cart even on a slope.  Applicable to rooms including hospitals, veterinary clinics, laboratories, etc.



Premium & Sturdy Material
2/3 Layers & 2/3 Drawers
360° Swivel Casters
Considerate Guardrail & Handrail
Key Features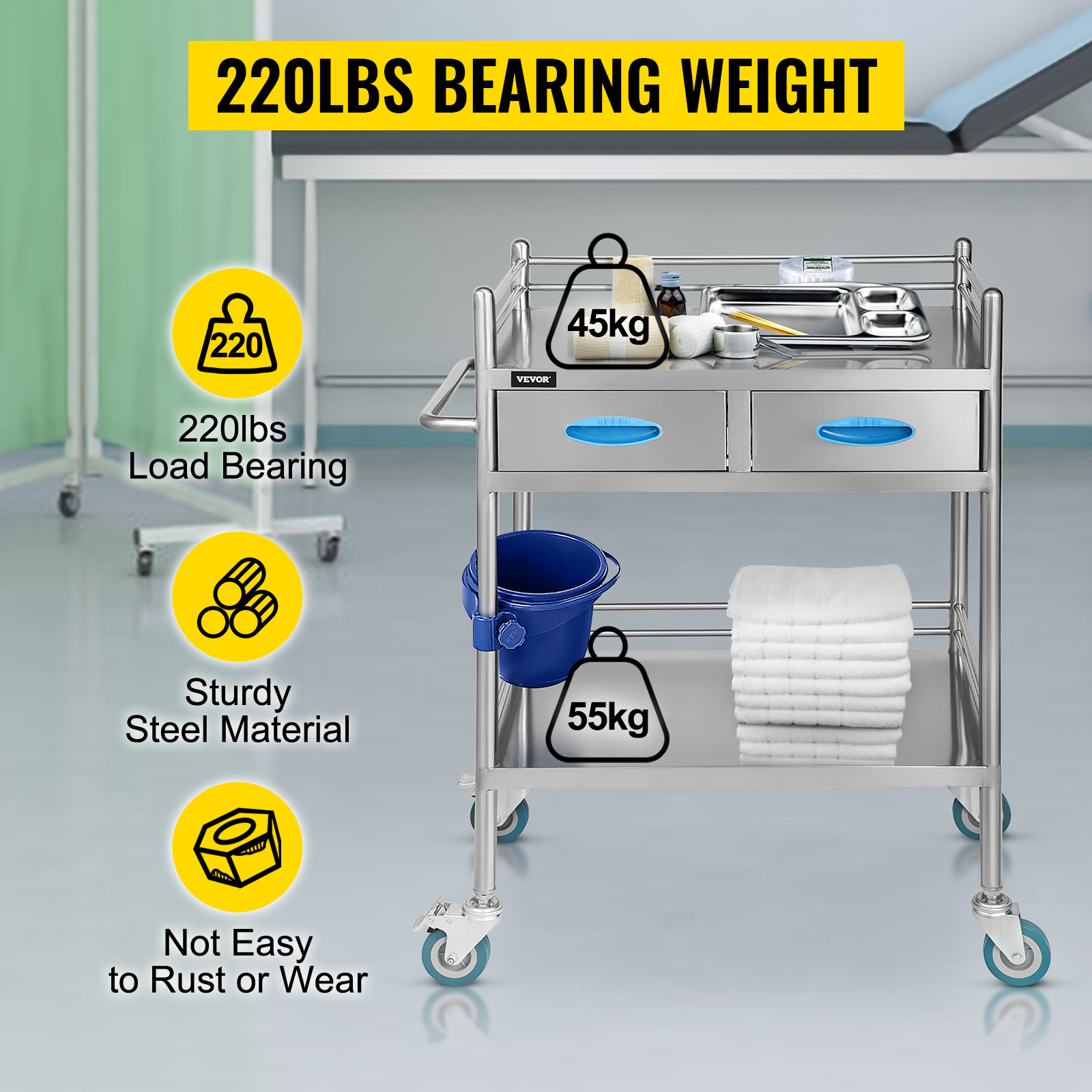 Premium Material
The lab medical cart is made of durable stainless steel/aluminum alloy material, providing good performance to withstand rust and corrosion, which can effectively extend the service life of the lab cart.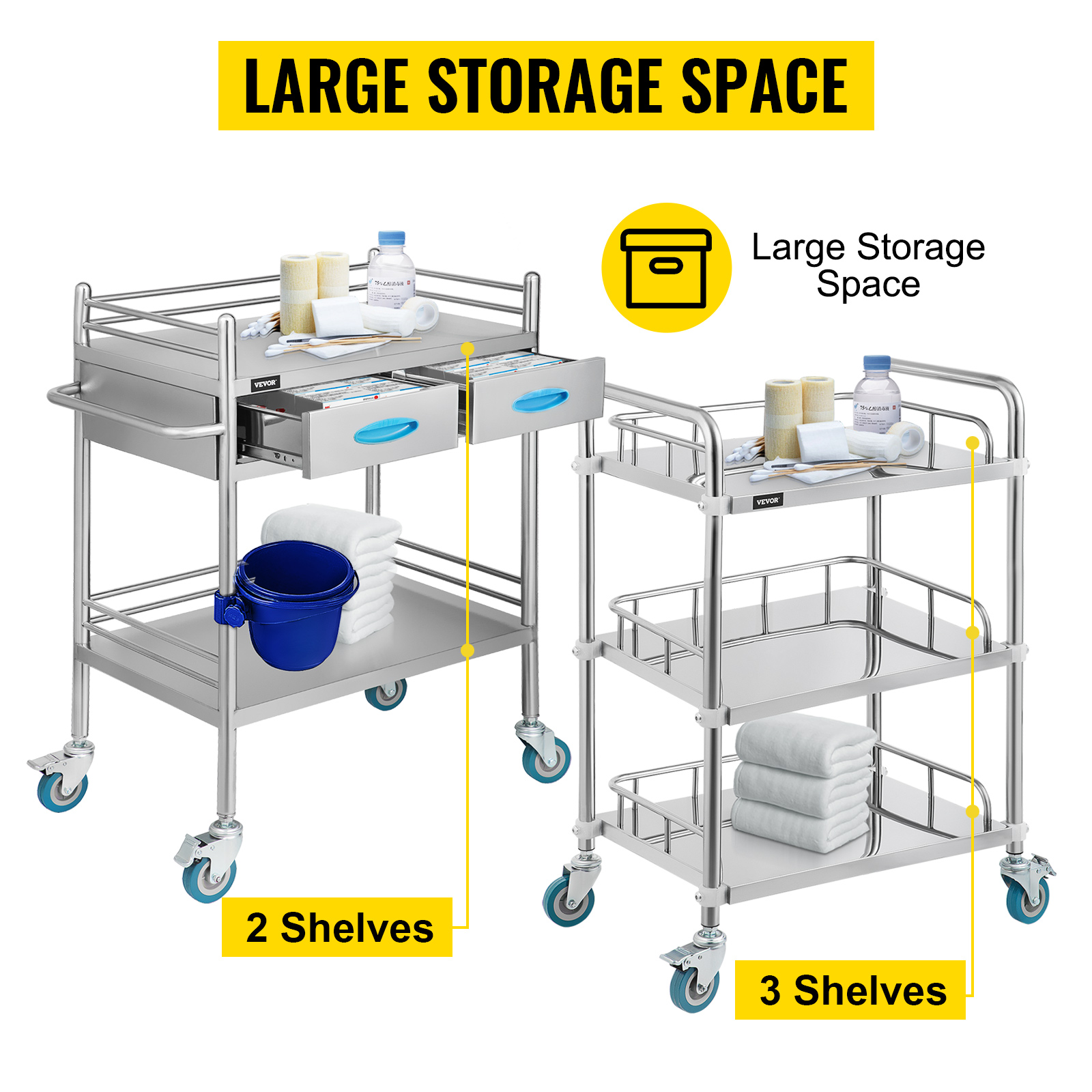 2/3 Layers Design
As the space saver, the 2/3 tier shelves can provide you more extra storage space. The 2/3 -tier basket can avoid logistics falling, and it is great for storage hospitals supplies, office supplies, and more.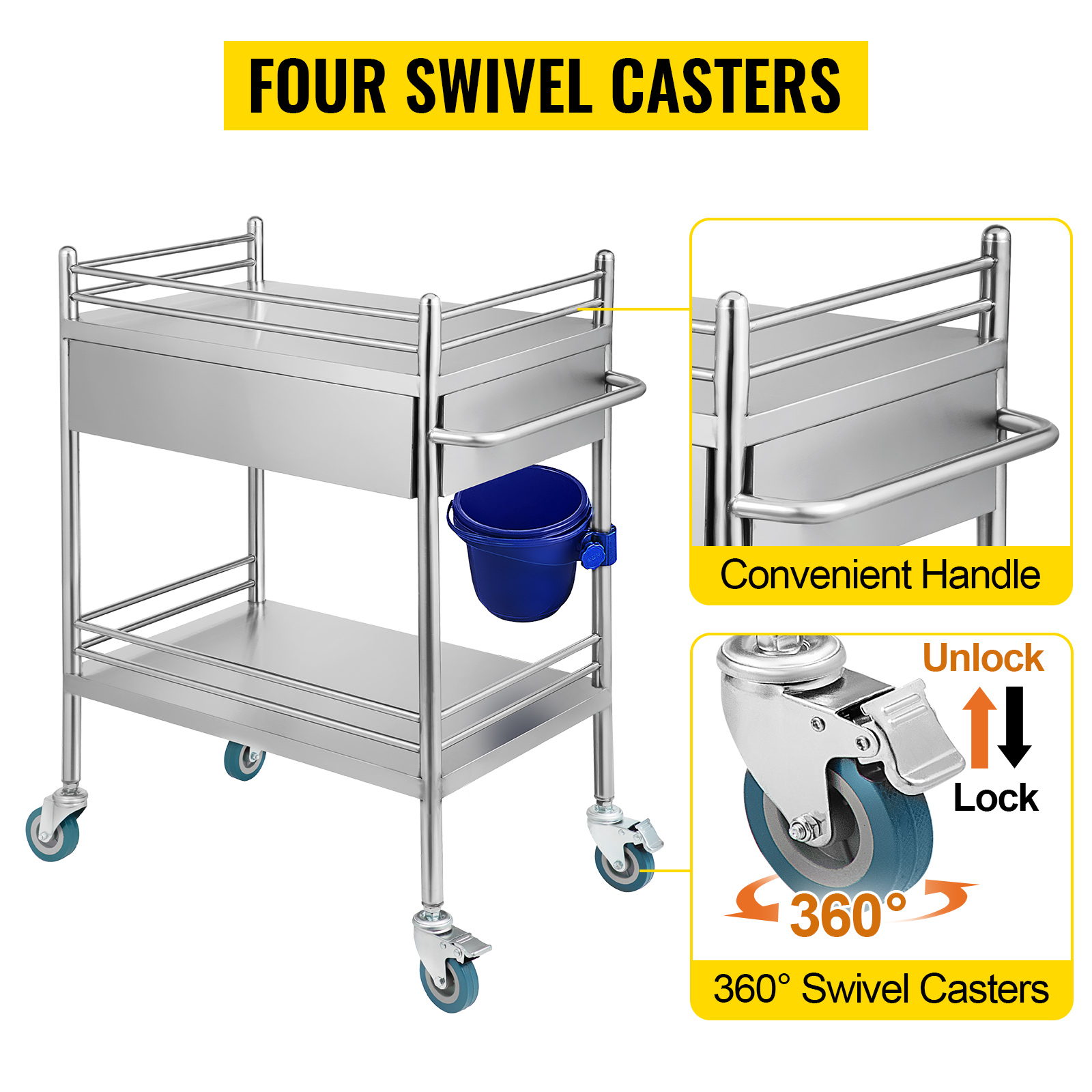 Practical Storage Drawer
In addition to providing you with a 2/3 layers design, 1/2-drawer is also design for storing, which has greatly improved the space and capacity, and you can store some important items in the drawer.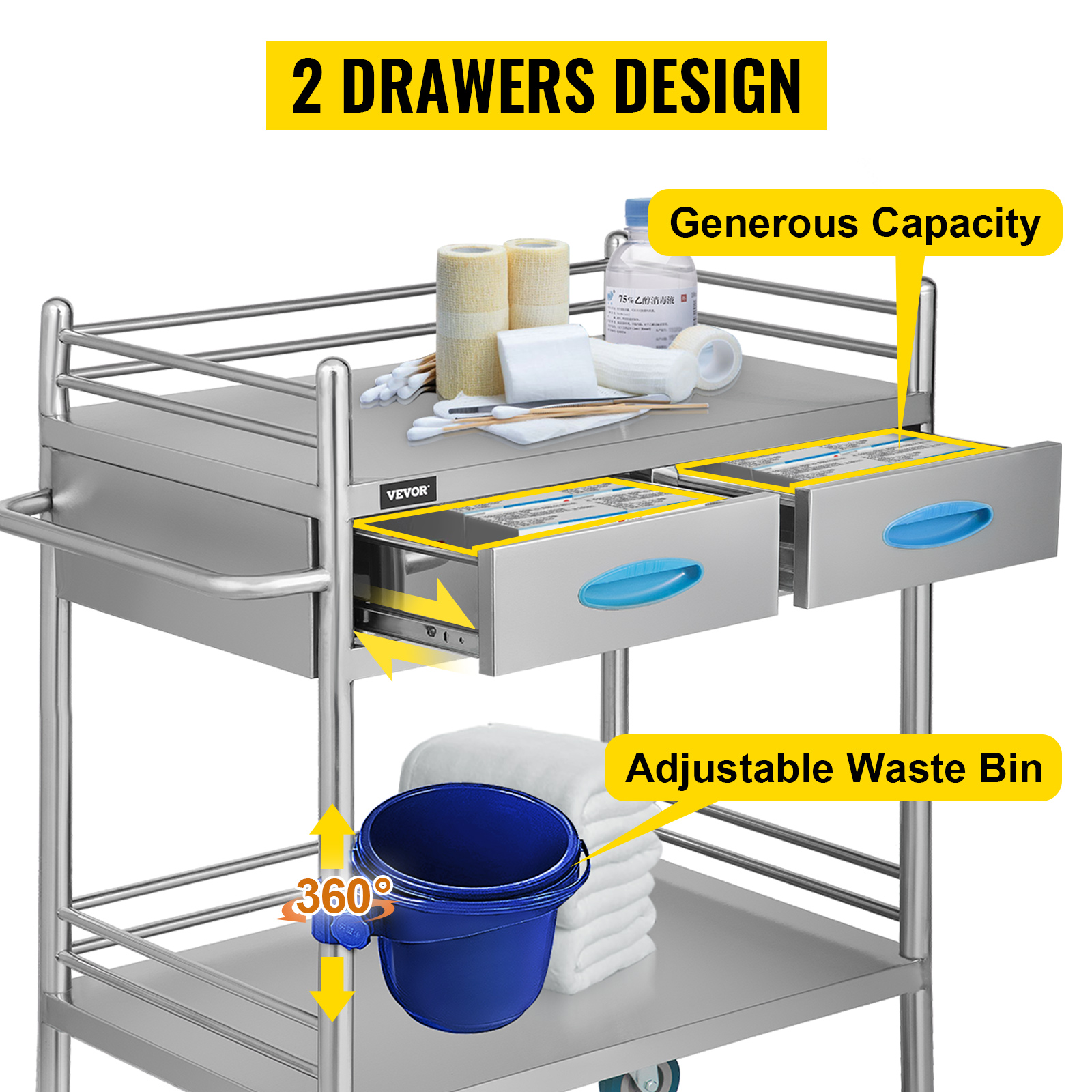 Guardrail & Handrail
The protective rail design can avoid the equipment falling, and side handles provide an easy-grip to make transport simple and easy. You can move the cart by pushing the rails, which is very convenient and labor-saving.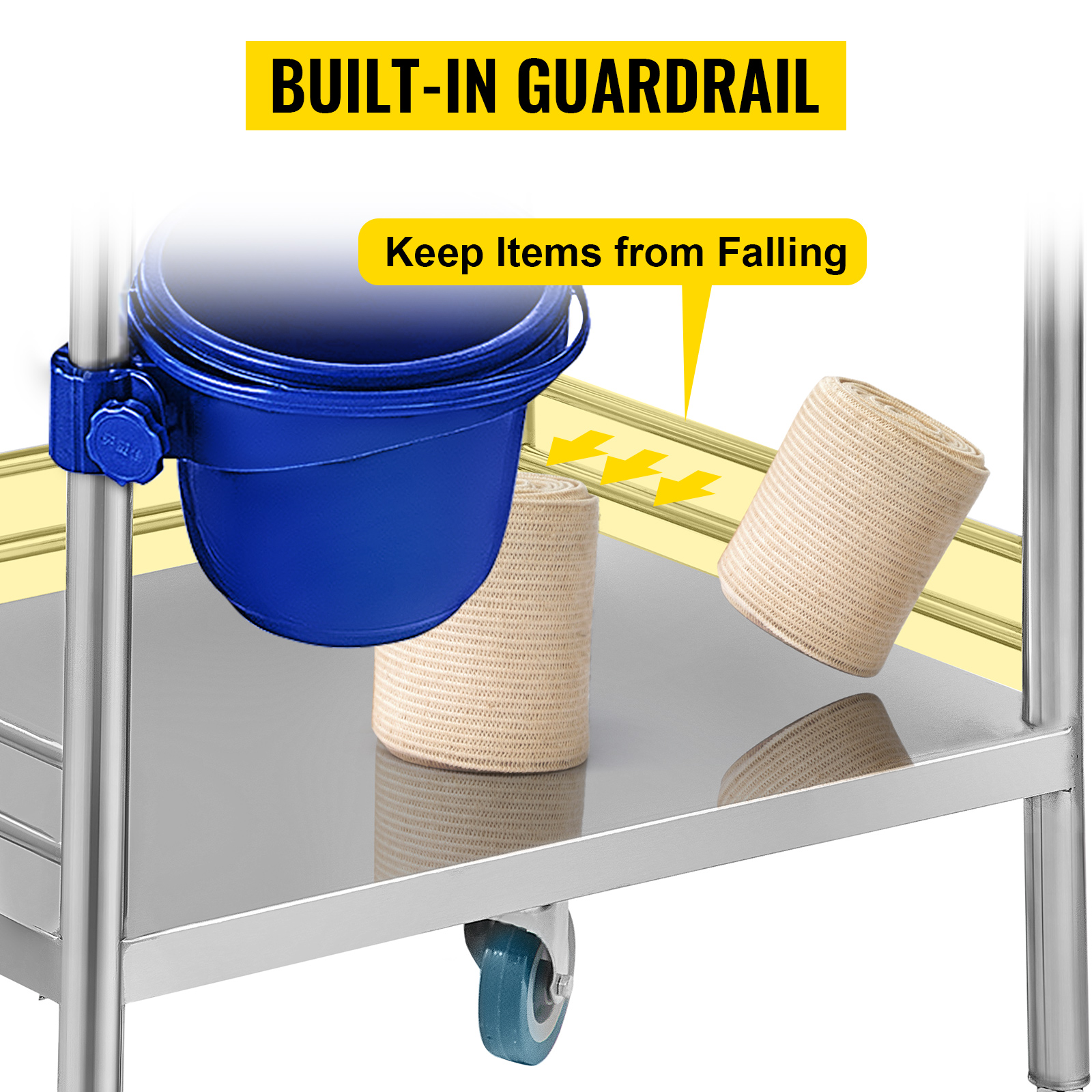 4 Rolling Wheels
The trolley is easy to move and fix anywhere, equipped with silent and convenient omnidirectional wheels. And the compact size cart and 360 rolling wheel design make it a handy helper throughout your home.
Flexible Versatility
White/sliver lab medical carts are widely used in many places, and they are used to store medical instruments and equipment, suitable for laboratory, school, clean room, workshop, etc.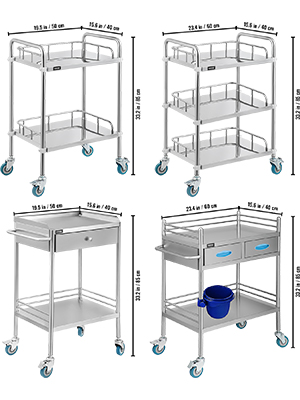 Specifications
Color: Silver/ White
Material: Stainless Steel/Aluminum Alloy
Layer: 2/3
Wheel: Omnidirectional, Lockable
Load Capacity: 176.4 lbs/ 80 kg
Item Length: 19.5"/ 23.4"/ 21.06"/ 27.69"/ 22.62"
Item Width: 15.6"/ 17.16"/ 18.72"/ 22.62"
Item Height: 33.15"/ 39"/ 30.25"/ 28.86"-44.07"
Package Content
1 x Lab Medical Cart
We will provide 6 types of white/ sliver lab medical cart with different sizes for your option: 2/3 layers and 2/3 layers with 1/2 drawers.
Features & Details
Premium & Sturdy Material: This lab cart is mainly made of stainless steel or aluminum alloy, strengthening sturdiness and balance. Moreover, its surface is dealt with white paint that is smooth and rust-proof. A premium trolley can simplify your daily work and achieve functionality and convenient operation.
2/3 Layers & 2/3 Drawers: 2/3 layers laboratory utility cart with 2/3 drawers have enough space for laboratory equipment. It can simplify your routine because you don't want to mess with a bunch of bells and whistles when you're busy. With 2/3 layers, this lab cart is designed for function and easy access.
360° Swivel Casters: The rolling cart is designed with four 360°rollers, 2 of which have foot brakes. Casters allow you to easily transport the tools or other items you need from one place to another. Transport vehicles or other heavy objects no longer cause you trouble.
Considerate Guardrail & Handrail: The ergonomic pusher is formed into the top shelf for smooth movement. It can simplify your daily work and achieve functionality and convenient operation. With these rails, it can efficiently save your labor and time.
Wide Application: White/sliver lab carts are receiving significant and considerable popularity in many places, such as laboratories, schools, clean rooms, workshops, etc. They can help you store medical equipment. In addition, it is very labor-saving and convenient for you to operate with a layered design, casters, and handrails.
Medical Device Instrument Tray Rolling Cart with Shelves and Drawers